These are our current archive projects. If you would like to sponsor all or part of a specific venture, please note the reference number on the donation form. (It is not necessary to support an entire project or even all of a specific part of a project.)
Detailed budget for each project is available upon request. Should you underwrite one of these tasks, we will acknowledge your contribution in the publication and online. We will also send you a financial report on that project when it is completed.
We strive for transparency and openness in all we do. It's the only way to build trust and accomplish great things.
All contributions are fully tax deductible!
Project A: After the White Rose. What happened to the friends and family members after 1945? Publication of primary source documents in English translation; and, publication of book about their lives.
A-1: Research in Berlin, Germany: $15,000.00
A-2: Research in Ludwigsburg, Germany: $7500.00
A-3: Research in Washington, DC: $11,200.00
A-4: Research in New Hampshire: $3600.00
A-5: Research in New York, NY: $4500.00
A-6: Research at USC and UCLA: $2500.00
A-7: Translation: $8600.00
Project B: Churches and Alignment — Case Studies (Working Title Only). Taking primary source documents for churches in Germany during the Third Reich, Catholic, Lutheran, Methodist (or other Freikirchen), and Church of Jesus Christ of Latter-Day Saints — one "good" example and one "bad" example each — to see how the anti-Nazi clergy came to their conclusions.
We have already been granted access to the LDS Church History Library's documents. This project should add substantially to our understanding of what it takes to act on the courage of one's convictions.
B-1: Research in Salt Lake City, Utah: $3180.00 (LDS)
B-2: Research in Ulm, Germany: $7500.00 (Methodist and Lutheran)
B-3: Research in Munich, Germany: $7500.00 (Catholic)
B-4: Translation: $8600.00
Project C: Helle (Helmut) Hirsch. Twenty-one when he was executed for a planned assassination attempt, Helle Hirsch is a unique case in the annals of anti-Nazi resistance. He was German, American, and Jewish. There are several existing biographies (both in German and in English) about Hirsch's life.
We intend only to publish his Gestapo interrogation transcripts and related documents in English translation, so non-German-speaking scholars can use them for work and for interdisciplinary coursework.
C-1: Research in Waltham, MA: $5000.00
C-2: Research in Berlin, Germany: $8500.00
C-3: Translation: $4300.00
Project D: Helmuth Hübener. Hübener was the youngest person executed by the Nazis for resisting Hitler. Only a teenager, he and two of his friends stood up against the leaders of his church (he was LDS) and called for the overthrow of Hitler.
Several biographies have already been written about Hübener and his two friends, and at least one documentary has been made of their lives. We do not wish to duplicate those efforts.
Rather, we intend to publish the Gestapo interrogation transcripts and related church documents in English translation.
D-1: Research in Salt Lake City, Utah: $3180.00. Note that this is a completely different set of documents from those in B-1. LDS Church History Library has the records from Hübener's ward specifically related to actions taken in his case.
D-2: Research in Berlin, Germany: $8500.00
D-3: Translation: $6450.00
Project E: The Edelweiss Pirates. As with the projects listed above, here we intend solely to publish Gestapo interrogation transcripts and related documents in English translation to enable non-German-speaking scholars to use them in their research and for interdisciplinary projects.
This was a fairly large group and has a great deal more documentation than others listed above.
E-1: Berlin research: $15,000.00
E-2: Translation: $8600.00
E-3: Setting up database: $8600.00
Project F: Family history project. The LDS Family History Library microfilmed approximately two dozen sets of family "newsletters" published during the Third Reich. These newsletters generally spanned about five or six years of genealogy research carried out to prove a family's "Aryan" status.
However, in addition to the latest work on the family tree, the families shared stories about daily life, family reunions, and political considerations. In other words, these newsletters provide a snapshot of daily life under Hitler, unfiltered by postwar considerations.
Travel to Salt Lake City is not necessary for this project. Costs include only copies and translation. We will publish as many in English translation as are funded.
F-1: Per family: $2500.00
Project G: Rudi Alt, Helmut Bauer, Heinrich Bollinger, Willi Bollinger. These four young men took part in White Rose resistance, but have been largely ignored. We would like to publish their Gestapo interrogation transcripts and related documents in English translation, and publish a book dedicated to their activities.
G-1: Research in Washington, DC: $4800.00
G-2: Research in Berlin, Germany: $7500.00
G-3: Document translation: $4300.00
G-4: Publication of book: $3000.00
Project J: Father Jean Bernard. His Gestapo interrogation transcripts and related documentation in English translation.
J-1: Research in Berlin, Germany: $15,000.00
J-2: Translation: $4300.00

Project L: August Landmesser. First, publication of his daughter's biography of her father. Then publication (in English translation) of his Gestapo files.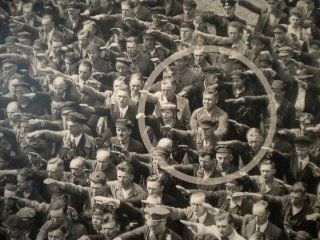 L-1: Research in Berlin, Germany: $8,000.00
L-2: Translation: $4300.00
Project M: The Munich Gestapo project. It has long been believed that the files of the Munich Gestapo were forever lost in the war; that "fact" is commonly cited in nearly every White Rose history. The ZC13267 and NJ1704 files held by the Bundesarchiv in Berlin are merely the prosecutor's files, not the Gestapo files. They contain only the Gestapo documents used by Weyersberg, Bischoff, et al to prosecute the White Rose friends, not the entire set of interrogations and evidentiary material.
The 1947 speech of George J. Wittenstein, however, referenced the Munich Gestapo files. At the time, he apparently was working for the CIC (predecessor to the CIA). In that speech, he referenced interrogation quotes that are not contained in the ZC13267 and NJ1704 files, evidence that the Munich Gestapo files did in fact survive the war. We want to find them, and publish them in English translation.
M-1: Research in Washington, DC: $11,200.00
M-2: Translation: $8600.00
Project O: The Open Door Project. Rent, utilities, and staffing for our archive facilities.
O-1: Rent and utilities for a month: $3600.00
O-2: Staffing for a month: $3600.00

Project S: The Shades of Grey Project. Introducing an innovative project on a subject that tends to be overlooked in Holocaust research and education... We're calling it Shades of Grey, with a tip of the hat to Barry Mann and Cynthia Weil.
Born while working on foundational "stuff" for the Churches in the Third Reich project, Shades of Grey looks at all those millions of people who were neither dedicated Nazis nor part of any resistance movement. These Germans (and Lithuanians and Dutch and French and so on and so on) dutifully and maybe even enthusiastically shouted Sieg Heil at the appropriate time and place. But they were more concerned about the price of potatoes or the shortage of real beeswax for Christmas candles than they were about foreign policy or the so-called Jewish Question.
Too often, we compare the lives of those who resisted to the lives of Adolf Eichmann or Joseph Goebbels. The Shoah is black and white, with everyone comfortably good or evil.
But what are we to make of all those who lived in shades of grey, between black and white? The grocery store owner who refused to sell to Jewish neighbors, but who did not "hate" them. The office manager who worked regular hours, went to church on Sunday, donated to the Red Cross, and averted her eyes when she passed Jewish shops that had been destroyed during Kristallnacht.
These people - these normal citizens - have gotten lost in the black-and-white versions of Holocaust history. We tend to ignore them and pretend they didn't exist, or we lump them into a stereotypical blob of mindless Führer groupies who melt at the sight of their intrepid leader.
The truth about the great masses lies somewhere between the unbridled National Socialist enthusiasm often attributed to "them", and the innocent unknowingness "they" claim for themselves.
Our Shades of Grey project will build a better profile of the millions who went along, who got up every morning, went to work, did what they were supposed to. We believe that we will learn a great deal about informed dissent and civil disobedience by contrasting those who resisted with their non-Nazi neighbors, instead of with the relatively few National Socialists at the top. What made our heroes (and not just White Rose heroes) look at the world with such different eyes, coming to such vastly different conclusions than those reached by their neighbors?
We intend to collect only primary source documents, not oral histories, for Shades of Grey. We've found too few individuals in this 'category' who are willing to speak honestly about their lives from 1933-1945. They tend to keep silent, or make excuses. So we'll let documents speak.
Primary sources include the expected letters and diaries - as well as postcards sent during life cycle events, special occasions, or during vacations. We have already located three or four postcard experts who are willing to assist in procurement of these items.

S-1: Each 100 postcards, $1000.00
S-1A: Scanning and translation of each 100 postcards, $2600.00
S-2: Acquisition of letters and diaries, approximately $18,000 per family set
S-2A: Scanning and translation of each family set, $5000.00

You can contribute to these projects - either fully funding one aspect (e.g. M-2) or contributing any amount to a specific project - in any of the following ways:

Going to our "online store" and choosing the project option;
Downloading our contribution form and mailing a check;
Contacting us for additional information.

We appreciate every donation (and donor)!